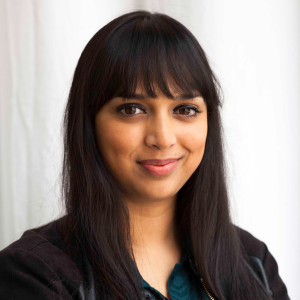 Versha Sharma is the Managing Editor and Senior Correspondent at NowThis, where she's been working since 2014. Versha was hired as a senior editorial producer in the early days of social video becoming a trend, and was tasked with shaping and defining the editorial voice for NowThis. From there, she was promoted to managing editor, managed the company's emerging platforms strategy and oversaw 2016 Election coverage. She conducted an interview with President Obama at a critical moment in the election cycle.
As NowThis's senior correspondent, she's also filed dispatches on immigration from the U.S.-Mexico border, reported from mass protests in St. Louis, and traveled to Moscow, Russia for the show she hosts and produces, The Russia Desk. Versha won an Edward R. Murrow award with producer Melissa Krasovsky and the NowThis Reports team for a short documentary about the aftermath of Hurricane Maria in Puerto Rico.
Versha has long been an enthusiastic voice for the most innovative models in digital journalism. Prior to NowThis, she worked as a reporter and editor for Vocativ, where she managed a team of international reporters. She covered the 2012 presidential election for MSNBC. Versha got her start in digital journalism at Talking Points Memo.
Website: https://nowthisnews.com/